Ledong county wei secretary, politics ,deputy county magistrate to visit the soft base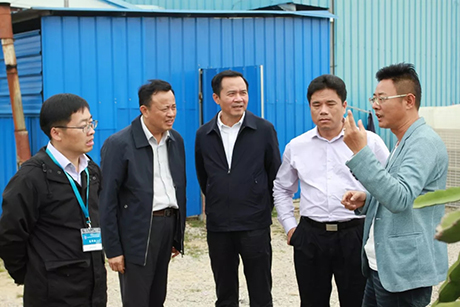 Ledong county party secretary wu chuan wishes to visit the soft - singing base.
Hainan Rouming Red Dragon Fruit Co., Ltd. is established in the March of 2017,Peak valley of tropical rain forest farm base is located in hainan province ledong county, surrounded on three sides by mountains and faces the facing the sea, compared with other districts pitaya planting region, hainan has the natural geographical advantages, its tropical climate for the growth of pitaya created the excellent natural environment. It belongs to the wild growing area of cactus, and the dragon fruit belongs to cactaceae, which naturally becomes the cradle of their growth. The planting area we are in is sandy soil, large day and night temperature difference which makes the natural ripening fruit sweet and full.
The dragon fruit variety planted in the company base is the red heart dragon fruit, which is the latest variety developed by wang jindu, an agricultural expert in Taiwan.
The company is a comprehensive modern fruit and vegetable enterprise integrating scientific research, production, processing and sales, specializing in the cultivation, promotion and sales of highquality red heart. The company is committed to providing consumers with safe, green, healthy and nutritious high quality fruit and vegetable products.