Hainan Rouming Red Dragon Fruit Co., Ltd.
Company was founded in March 2017, farm base is located in hainan province ledong county rush the rainforest valley, the mountains around from three sides, facing the sea, compared with other districts pitaya planting region, hainan has a natural geographic advantages, its tropical climate for the growth of pitaya created the excellent natural environment. It belongs to the wild growing area of cactus, and the dragon fruit belongs to cactaceae, which naturally becomes the cradle of their growth. The planting area we are in is sandy soil, large day and night temperature difference which makes the natural ripening fruit sweet and full.
The dragon fruit variety planted in the company base is the red heart dragon fruit, which is the latest variety developed by wang jindu, an agricultural expert in Taiwan. There are a lot of differences between the dragon fruit and the dragon fruit in Vietnam, as follows:
Fruitage :
a. big size, round shape, plump fruit, thin peel, single fruit weight up to 0.6-1.5kg; b. Sweet degree up to 23-26brix; c. Special rose sweet taste, no other dragon fruit can be compared;
d. It is two times of anthocyanin than Vietman dragon fruit, with much more anthocyanin element;e. It can be storaged up to 15 days in ordinary temperature, and up to 45 days in constant temperature.
Plantation :
a. Northern altitude 18°geographic position and plenty of sunshine is the best plant area in the world; b. Plant base mainly are in Hainan and Xishuangbanna for dragon fruit, and Rouming is located in Hainan province;
c. It has professional technology support with high standard and strict requirement; d. Couter seasn light supplementary guarantee fruit consistentlygrowing; e. Always keep one stem one fruit, make sure fruit full nutrient and sweet taste; f. Natual pollination saves labor cost, invest and make growth evenly;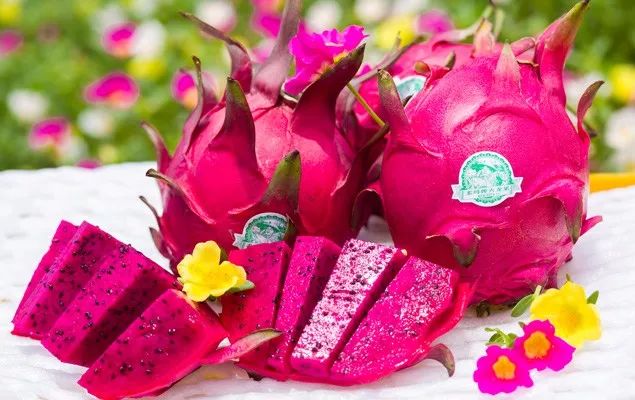 Fruitage:
a. Uniform size, oval shape, thick peel, single fruit is around 0.5kg; b. Sweet degress is around 13-14 brix; c. It have to be storaged in cold storage;
Plantation :
a. Wide plant area
b. Pollination manually costs much, unevenly pollination sometimes influents fruitage
growth.